Wearing my own cute and comfy clothes after giving birth in the hospital made a big difference. Instead of wearing the hospital gown, I got to pick and choose my postpartum outfits as a new mom from the very first day.
I like my clothes to feel comfortable and yet look stylish. It helped me to feel a bit more like myself during that time of intense physical and emotional change after birth. And it helped with a smooth transition to postpartum life as a new mom.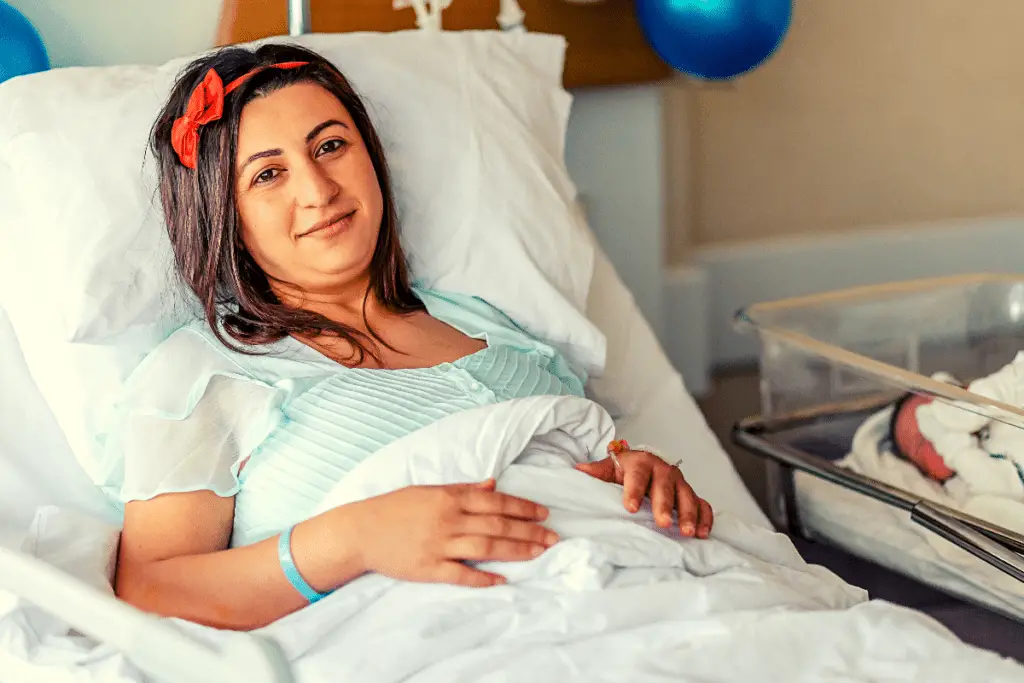 Disclosure: MyMommyHeart is a participant in the Amazon Services LLC Associates Program, an affiliate advertising program designed to provide a means for sites to earn advertising fees by advertising and linking to amazon.com
Your body is "perfect" as it is right now
After giving birth, dear new mommy, don't stress yourself about your body.
Try to have a thankful attitude and embrace all the small and big "left-overs" from the pregnancy for now. Your body has done a great job growing and delivering your baby and will need A LOT of rest and time to adjust to life without a baby in the belly again.
So, even when celebrities present their perfectly "bounced-back" after-baby body on social media, you can sit back, smile, and relax. Enjoy the precious first few weeks with your baby to the fullest without focusing on your appearance too much.
 Your body is just "perfect" as it is right now. Listen to its needs, rest a lot, and take time to heal.
All that said, I firmly believe that it can support and help you to have clothes which make you feel comfortable and good-looking during those weeks.
So, here goes the checklist with the essential postpartum clothes for in the hospital:
What to wear after giving birth in the hospital
1. Postpartum underwear
The hospital will provide mesh underwear which can be very convenient and comfortable for the first couple of days. However, you might want to bring your own comfy, "real" underwear instead.
No matter your style right now, trust me, you will gladly embrace full underwear to feel comfortable and secure down there after giving birth.
Make sure you get dark-colored ones for obvious reasons. (If you are wondering why, read more about postpartum bleeding here.)
 And choose a very breathable material such as cotton.
UMMISS Womens Underwear,Cotton High Waist Underwear for Women Full Coverage Soft Comfortable
Kindred Bravely High Waist Postpartum Underwear & C-Section Recovery Maternity Panties 5 Pack
Angelhood Womens Maternity Panties Foldable Maternity Underwear Under Bump Postpartum Pack of 5
2. Nursing bra
A couple of well-fitting nursing bras are must-haves for your hospital stay after birth.
A good nursing bra supports the breast and relieves the back.
The cups of the bra should not be too small. If a bra is too tight, it will squeeze the nipples, leading to blocked milk ducts followed by a breast infection.
Related: What every new mom needs to know about breastfeeding before having her baby.
Most new moms' breasts grow by at least one or two cup sizes after giving birth due to the milk coming in. So, be aware and buy the bras at least one cup size bigger than usual.
During your hospital stay, you might want to wear a nursing bra even for sleeping. Seamless bras without underwires are particularly suitable for comfortable nights.
All that said about functionality, maternity bras don't have to be boring. Delicate lace, colorful designs, and playful details characterize most of the nursing lingerie today.
Take a look and enjoy some shopping for your time after birth.
HOFISH 3PACK Full Bust Seamless Nursing Maternity Bras Bralette S-XXL with Extra Bra Extenders & Clips
Momcozy Lace Nursing Bra for 34C-42E Cups Maternity Bralette V Neck for Breastfeeding Wireless Black
MOMANDA Nursing Bralette Women's Breastfeeding Maternity Bras Lace Nursing Bra Padded Wireless
3. Basic T-Shirt
You can bring T-Shirts which you already have and find comfortable.
Or you can get some new maternity tops that will make breastfeeding a breeze.
When choosing those, make sure to remember that after giving birth, most women still have a 6-months-pregnant sized belly for the first few days. Loose-fitting or elastic T-Shirts work best for those days of transition.
Smallshow Women's Maternity Nursing Tops Short Sleeve Breastfeeding Clothes
Ecavus 3PCS Women's Maternity Nursing Tops Short Sleeve Side Ruched Breastfeeding Shirt
Bearsland Women's 3 Packs Maternity Clothes Long Sleeves Breastfeeding Shirts Nursing Top
4. Leggings/Joggers/Sweatpants
You will be thrilled to have a few pairs of comfortable, non-restricting pants for the days at the hospital.
Leggings or stretchy pants are a great option if you like well-fitting clothes.
Or you can go for the baggy pants and simply bring some comfy joggers.
If you love jeans, you might want to bring maternity jeans from your pregnancy as the most comfortable option.
(Personally, I would have never wanted to put on jeans in those days, but I know other mommies thoroughly enjoyed having a pair of maternity jeans with them.)
Felina Velvety Soft Maternity Leggings for Women – Yoga Pants for Women, Maternity Clothes – (2-Pack)
Bvoibell Women's Cozy Yoga Joggers Pants Loose Workout Sweatpants Comfy Lounge Pants
Colorfulkoala Women's High Waisted Seamless Leggings with Pockets 7/8 No Front Seam Yoga Pants
5. Robe
This one isn't necessarily a must-have for your hospital stay after giving birth, but you might really enjoy it (just like myself).
A robe comes in super comfortable and convenient when you are not ready to get dressed properly. You might just want to wear your underwear and a bra and throw a cute robe over it.
It works perfectly for breastfeeding and brings a bit of a "chill" vibe, I find.
There are super cute designs, and you can even match your baby's swaddle blanket if you choose to. It makes for fantastic hospital photos as well btw.
Maternity Robe and Matching Baby Swaddle Blanket Set, Mommy Robe with Newborn Receiving Blanket
6. Pajamas
One mommy friend told me that all she wanted to wear after giving birth in the hospital was Pajamas.
And that's totally ok too. If Pajamas are what you are most comfortable in during those days, go for it!
They can have a similar effect to a robe and make you feel comfy and warm. You just throw it over your underwear, and you are good to go.
Or obviously, if you want to wear them at night for sleeping.
There are also amazing variations of pajamas made with easy access for breastfeeding.
Ekouaer Maternity Nursing Pajama Set Long Sleeves Breastfeeding Sleepwear Soft Hospital Pregnancy pjs Sets
7. Socks/Comfy Slippers
Trust me (I am a nurse); a hospital floor is the last thing you want your skin to be touching after having a newborn baby.
Just. Don't. Touch. It. Not even with your feet.
(Ok, maybe I am being a bit dramatic… I know it is also well cleaned regularly. But still.)
Bring comfy socks to keep your feet warm and clean, or invest in cheap slippers which you can throw away one time after leaving the hospital.
You are welcome.
Fuzzy Warm Slipper Socks Women Super Soft Microfiber Cozy Sleeping Socks
8. Headband/Headwrap
Last but not least, I recommend bringing a headband or some headwrap if you have long hair.
You might or might not want to wash and style your hair every day during your hospital stay. And you will be glad to have your hair out of your face for all those breastfeeding sessions in the beginning.
Either way, headbands or wraps are a super convenient way to put your hair up and feel cute without having to spend much time on it.
Turban Headbands for Women Boho Wide Women's Headbands for Hair Non Slip Twist Head Bands
That was it, the 8 must-haves of a postpartum outfit for the hospital stay
These postpartum clothes will well equip you for your time at the hospital (and even after!).
If you are wondering what else to pack in your hospital bag (also for dad and baby!), get your free packing checklist right here:
All the best for your delivery!
Also: are you prepared to bring your baby home? Here is a checklist with the only 10 newborn essentials you need to prepare before the big day.