Sleep is extremely important for babies; whether a child sleeps well or not automatically affects mom and dad too. So, dressing your little one the best way you can according to the temperature of the room is crucial and can make all the difference in your lives as new parents.
It is especially crucial during the colder winter months, which is the time when we all need some extra warmth and comfort. It's also one of those times when it can be difficult to choose clothes that are warm enough but not too bulky or heavy on your baby's body. Therefore, this post will not only help you know everything about baby wear in general but also specifically give tips about how to dress your baby for sleep in winter as well as in warmer weather.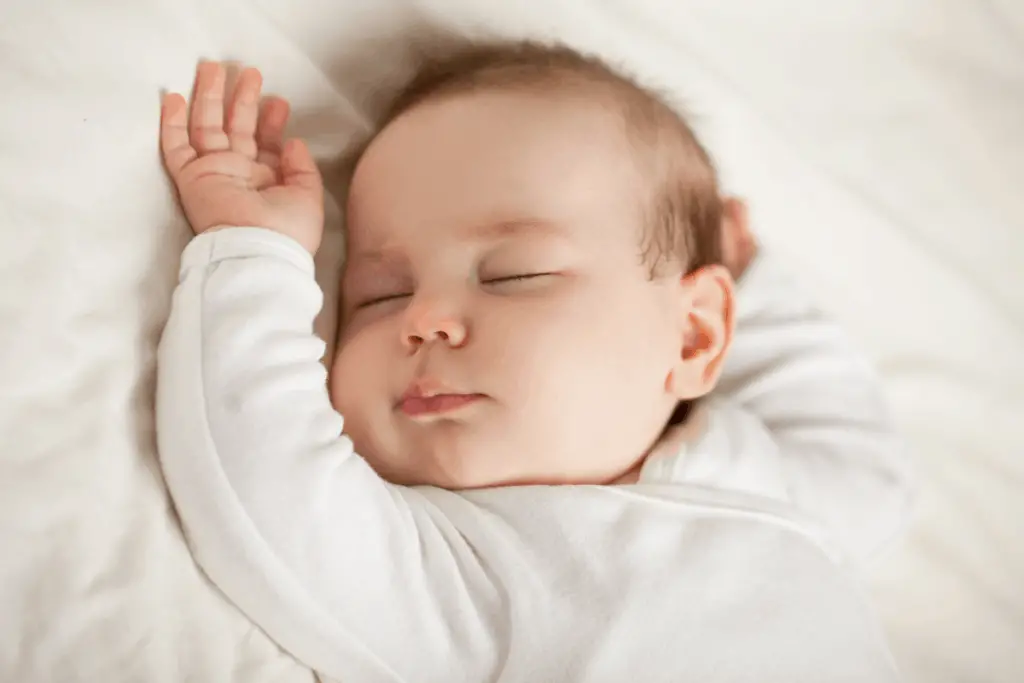 How do I know if my baby is dressed warm enough at night?
The easiest way for a new mom to determine whether your baby is cold, warm enough, or sweating, is to place two fingers in the neckline. If the skin on the back of their neck is cold, put an extra layer of clothes on your little one. Your baby is fine if the neck is warm but not moist. If the skin feels hot and moist there, your baby is too hot.
In contrast, a baby's hands and feet often feel a bit cool due to the not yet fully developed blood flow, even though your baby's body temperature is optimal. So, don't worry about cold hands when the neck test is fine.
However, cold and pale blue marbled skin on your baby's face, hands, or feet is a sign that your baby's temperature is too cold, and you have to put them in an additional layer.
What is the ideal temperature for a baby to sleep in?
According to experts, the ideal sleep environment for a baby should have a room temperature between 65-68°Fahrenheit (18-20°Celsius).
The AAP (American Academy of Pediatrics) emphasizes that parents and caregivers should not overdress babies and keep the thermostat at a comfortable temperature. As a general rule of thumb, you can say that if the baby's room temperature is comfortable for an adult, it is also appropriate for a baby.
If the room is too warm, the risk of SIDS (= risk of sudden infant death syndrome) increases. Room temperature is important for safe sleep.
However, because a baby cannot yet regulate its body temperature itself, as parents, we must adapt the baby's clothing as well as possible to the room temperature. That means the baby's sleepwear should not be too thin but not too thick either because it might sweat and either overheat or catch a cold.
Therefore, breathable fabrics are always a good idea. They help your baby's body adapt to different temperatures. When clothes soak up sweat, they become damp and cold, and instead of warming, they let the body core temperature of a baby drop.
How cold is too cold for a baby to sleep?
The AAP recommends keeping the room temperature no lower than 60°F (15.5°Celcius).
If the room temperature drops below 55°F (12.7°Celcius), the risk of hypothermia increases significantly, and it can become dangerous even for a well-dressed baby.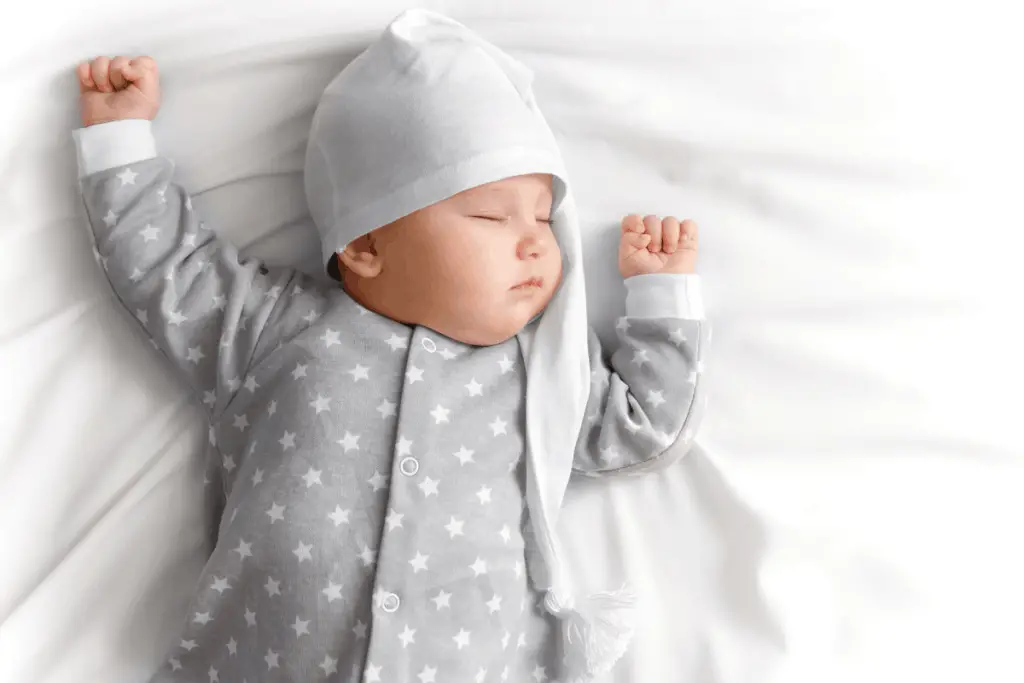 How can I keep my baby warm at night? 
At the right temperature in a heated room, around 65-68°Fahrenheit (18-20°Celcius), your baby doesn't need gloves, and you don't have to cover your baby's head with a hat for sleeping. Babies can actually best give off excess body heat through their uncovered head.
A good rule of thumb says babies don't need more than one layer of clothing more than adults.
To sleep, all your baby needs (in addition to diapers and underwear) are pajamas and a sleeping bag, depending on the room temperature.
Loose blankets are not necessary for a cot – (neither in summer nor in winter), as they pose a choking hazard and increase the risk of sudden infant death.
However, you can preheat a cold bed, e.g., with a cherry stone pillow or a bed bottle. But make sure to take it out before you put your baby to sleep!
Oh, and by the way! Even if your baby is sick, e.g., with a fever, it tends to need less clothing – never more!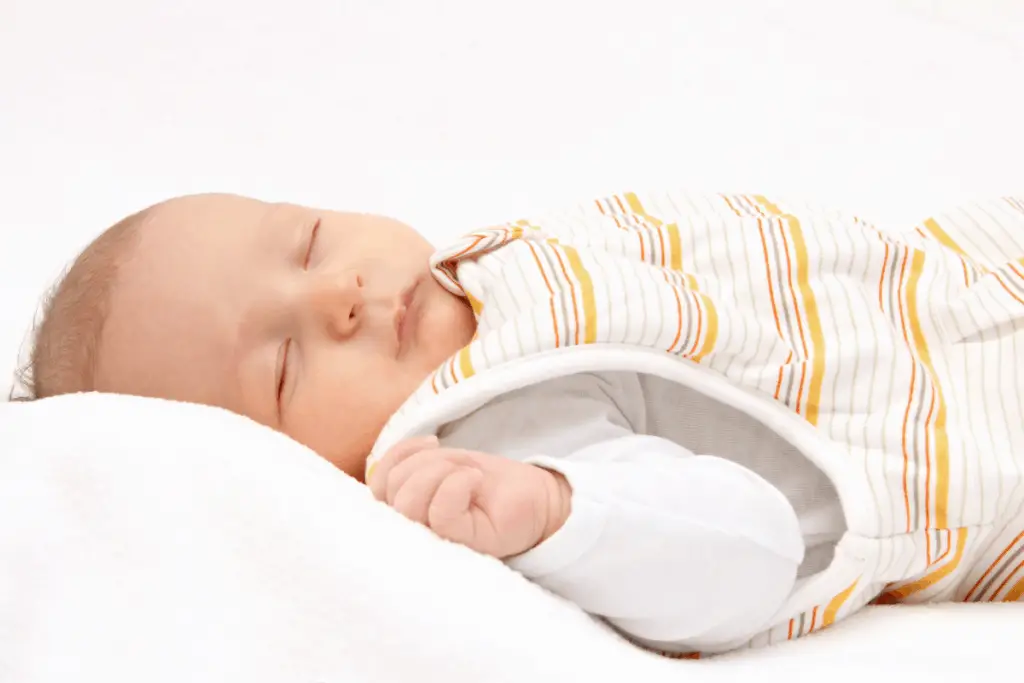 Disclosure: MyMommyHeart is a participant in the Amazon Services LLC Associates Program, an affiliate advertising program designed to provide a means for sites to earn advertising fees by advertising and linking to amazon.com
How should I dress my baby to sleep?
So, in conclusion, we can say:
A sleeping bag (TOG 1.0-2.5) and cozy baby pajamas keep your baby warm enough for sleep at an ideal room temperature. 
If your baby wears too many additional layers, the bedding is too warm, or the room temperature is too high, it can all be a risk factor for overheating.
As a parent, usually, you can count on your baby to wake up and start crying when it gets too cold.
If, on the other hand, it becomes too warm, it continues to sleep. And that can be very dangerous. Overheating reduces protective defensive reflexes against sudden infant death syndrome (SIDS).
Make sure your baby's body stays at an optimal temperature by dressing your little one accordingly. As said before, breathable materials are ideal.
What to look for when choosing a baby sleeping bag?
A baby sleeping bag, aka baby sleep sack, ensures that your baby is always well covered without restricting its freedom of movement. It is an excellent alternative to an extra blanket and prevents the risk of the baby choking.
When purchasing a sleeping bag for your baby, you should take the following points into account:
The right size is important. If the sleeping bag is too small, the baby has too little freedom of movement, and if it is too big, the baby can become entangled in it. It is ideal if the feet still have 4 inches (10 centimeters) of space to grow.
The neck opening must not be larger than the head circumference. Otherwise, the baby can slip into the sleeping bag. Safety standards say that a finger should fit between the neck and neckline, so there is no risk of strangulation.
A pear-shaped sleeping bag is ideal, i.e., close to the upper body, cut wider at the bottom for more legroom.
Long ribbons and buttons can be dangerous for the baby. Zippers are, therefore, safer. The zipper should be covered at the neckline so it doesn't pinch the baby's skin when closing.
The TOG rating value must be accurate. It is the measure of the thermal output of a sleeping bag. It is more meaningful than the perceived thickness of the material.
Using this TOG table, you can see at a glance which sleeping bag suits the room temperature. The higher the TOG value, the warmer the sleeping bag. Accordingly, the table tells you how to dress your baby when wearing a sleeping bag. During the warmer months, when you have warm nights without air conditioning, a short sleeve onesie with a 0.5 TOG-rated sleeping bag might be more than enough for a good night's sleep for your child.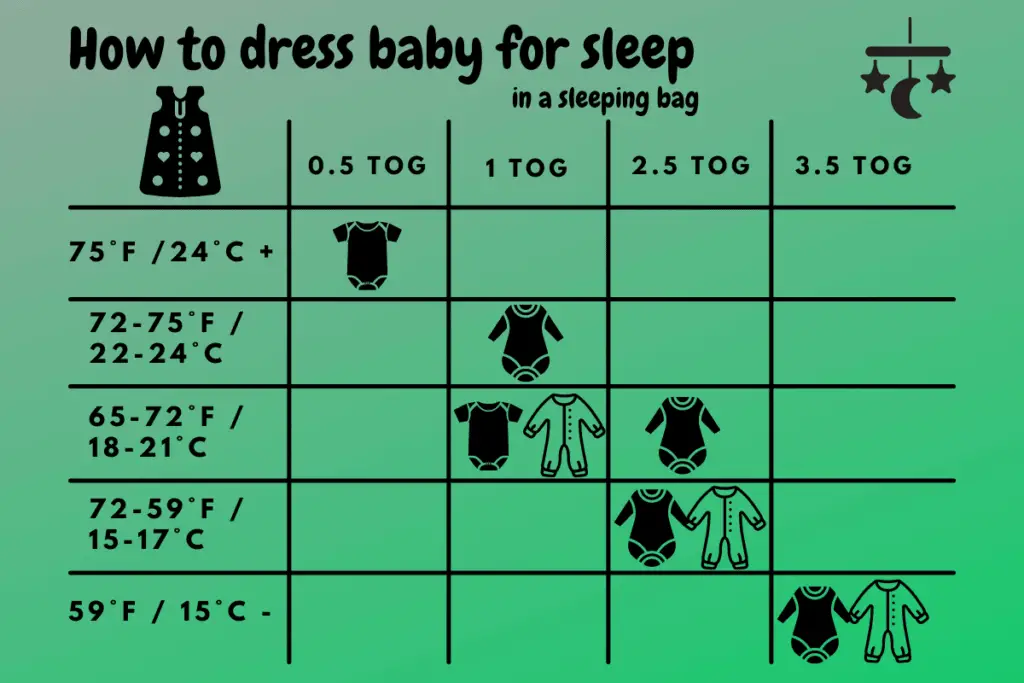 Some of the best baby sleeping bags on amazon
This cozy fleece sleep sack is a good option for a wearable blanket for your little one.
The roomy sack design allows room for kicking but cannot be kicked off. In addition, the inverted zipper opens from the bottom for easy diaper changes if needed during the night.
This classic sleeping bag by Aden+Anais is super breathable. It is made with 4 layers of muslin cloth and becomes softer and softer with each wash.
This so-called Zippy Swaddle Blanket keeps your baby safe and cozy. It also helps your little one to sleep better and wake up less often.
The design provides the comforting, enclosed feeling of the swaddle but doesn't limit your baby's full leg range of motion.
This Swaddle Sleep Sack is only suitable for babies who can't roll over yet. For more important information and tips about Swaddle Blankets, click here.
Some of the best baby pajamas on amazon
These 100% organic cotton, long-sleeved onesie pajamas are super soft. They will keep your baby perfectly warm for sleep at night.
The front zipper (with a snap-over tab) makes for an easy outfit change when necessary in the middle of the night.
These cozy and soft footie pajamas will provide amazing comfort for your baby. Besides, they're also a great option for casual outfits to wear during the cooler weather.
They come in various cute and fun patterns.
These Baby Suits are made of a soft, flexible fabric that moves easily with your baby's movements. The 4-way stretch ensures a perfect fit all night long.
Adjustable cuffs at arms and legs provide added flexibility and the perfect length for at least 6 months per size.
So, now you know
What your baby should wear at night
A sleep bag (TOG 1.0-2.5) and cozy baby pajamas keep your little one perfectly warm and are a safe option. Simply keep checking your baby's neck from time to time and ensure an optimal room temperature.
Read all about how to prevent baby diaper blowouts at night here. Or find more practical tips for life with a baby here.