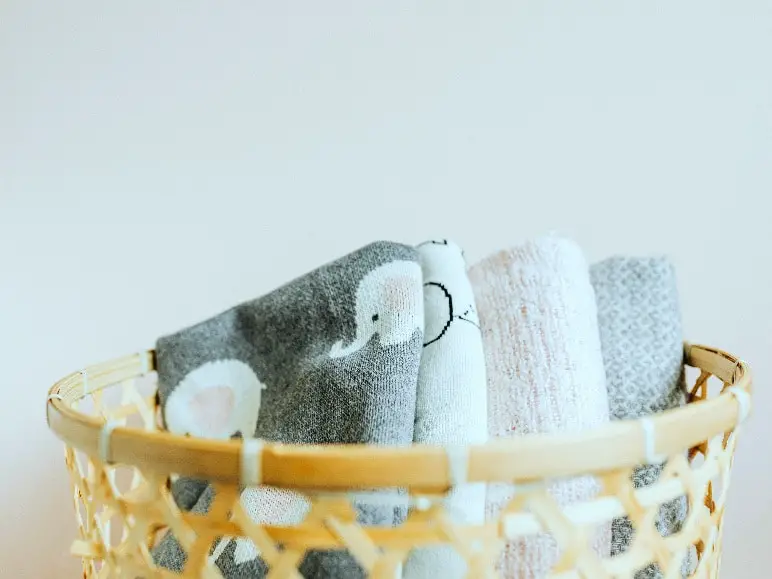 Is a receiving blanket the same as a swaddle?
A receiving blanket and a swaddle blanket are not the same. However, they are both types of baby blankets, and the terms are often used interchangeably. A receiving blanket and a swaddle mainly differ in size and material. A receiving blanket can also serve as a swaddle to wrap a baby.
If you are a mommy-to-be, you have probably heard about receiving blankets and swaddles. Nowadays they are so-called staple baby items. Are you confused about which is which and wondering if there is even a difference? Which type of blanket do you need? Find out everything you need to know about receiving blanket vs swaddle today! Make your choice of blanket easy.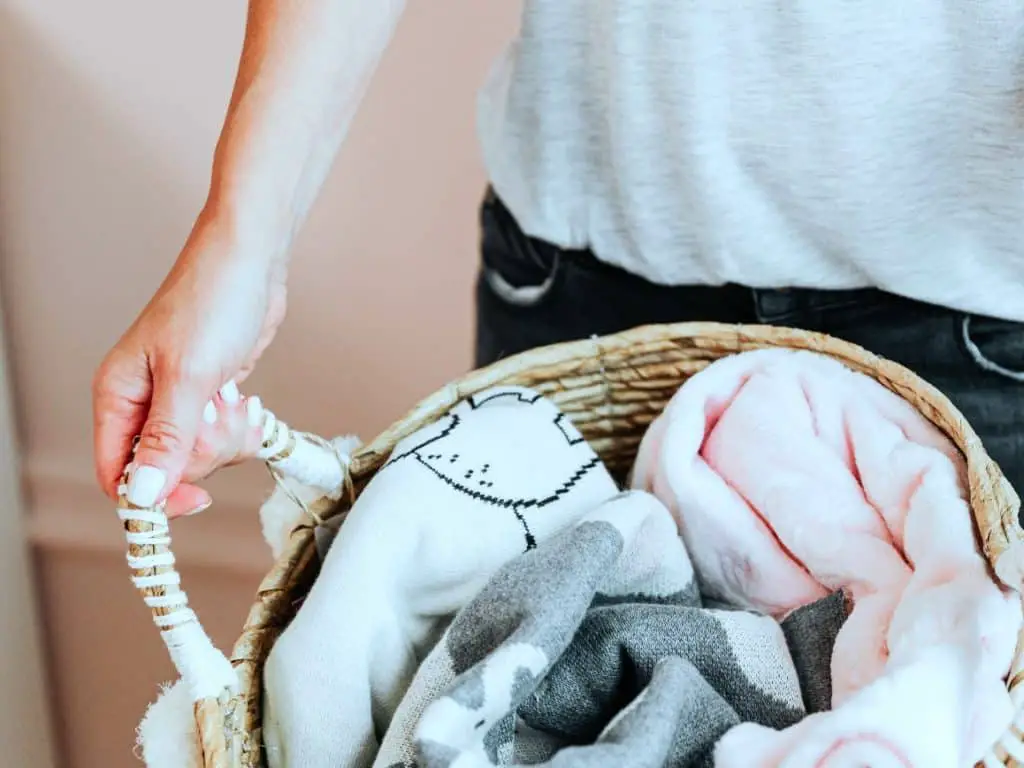 Disclosure: MyMommyHeart is a participant in the Amazon Services LLC Associates Program, an affiliate advertising program designed to provide a means for sites to earn advertising fees by advertising and linking to amazon.com
A receiving blanket is a soft, thin, lightweight baby blanket for a newborn. The common size is 30 by 30 inches. It consists of flannel or cotton material and can serve as a swaddle blanket to wrap an infant. It can be used for a variety of tasks related to your baby.
It can serve as a nursing cover, changing cloth, or even as a bedsheet for a small baby cot.
As a new mom, you might get plenty of receiving blankets for your newborn.
What is a swaddle blanket?
A swaddle blanket is an easily stretchable baby blanket. Mostly it is 47 by 47 inches in size. The soft material is usually muslin cloth or cotton. Next to swaddling a baby, swaddling blankets can also be used for many other things in life with your newborn or even toddler later on.
It serves great as a car seat cover, as a burp cloth, or even as a cuddly toy for your baby.
Receiving blanket vs swaddle – what's the difference
A receiving blanket and a swaddle are basically two types of blankets. The biggest differences between the two are the size and the elasticity of the material.
A receiving blanket works perfectly for swaddling a newborn. Yet, a few months after birth, your baby will outgrow it and will need something bigger. That's where the actual swaddle blanket comes in. It's bigger in size, and usually, the material is more elastic. It stretches well so that you can still securely tuck in your child.
How to use a swaddle
Swaddling is the tight wrapping of a baby in a receiving blanket or a swaddle. It helps the baby with the transition from the comfy womb to the big wide world. It can also lengthen the baby's sleep phases.
When swaddled, a baby can't move around its arms and legs. On the one hand, this gives a feeling of security, similar to the tightness in the womb. On the other hand, it allows your baby to develop a feeling for the own body through the resistance of the cloth wrapped around.
Swaddling a baby is useful as long as the baby is not yet fully aware of its movements, up to a maximum of six months of age.
It is safe to swaddle a baby as long as you still follow the AAP Safe Sleep Recommendations. If you want to read more about it, check out this article on healthychildren.org.
If your baby might be able to roll over from back to tummy while swaddled or generally if your baby is big or strong enough to break out of the swaddle it is time to stop swaddling.
How to swaddle a newborn
Watch this video to see how to swaddle a newborn baby. It shows you 5 different ways how to use a swaddle cloth or a receiving blanket for swaddling your baby. Check it out because it's easy to follow.
Best receiving blankets and swaddles
Personally, my favorite receiving blankets are from Modern Baby. They have packs with 4 flannel (100% cotton) blankets in a set.
The next personal receiving blanket choice is the ones that come with headbands for your sweet baby girl. They are perfect for swaddling your newborn daughter.
In my opinion, the best swaddle blankets are by Aden+Anais. The soft, breathable muslin material feels amazing on the baby's skin. Plus, their designs are super beautiful.
Tip: Muslin cloth becomes softer with every wash. After getting a few swaddles for your newborn, make sure to wash them a couple of times before your baby is here! That way, you will have excellent swaddle blankets ready.
Aden + Anais also have a so-called Easy Wrap Swaddle. It is basically a wearable blanket or a swaddle sleep sack for newborns. As a new mom, I found it super convenient to use those.
Other uses for swaddles
A swaddle blanket is an amazing multipurpose item to stock up on for your baby.
1) Burp cloth
With its generous size, a swaddle serves wonderful as a burp cloth with maximum coverage. Your baby lies softly on the breathable fabric while you wait for the burp to come. Besides, you can easily use the cloth to wipe away spills and little spit-ups.
2) Nursing cover
Thanks to the wide-meshed fabric, a breathable muslin cloth swaddle ensures the perfect temperature when breastfeeding – for mom and baby. I have always found it ideal to have a swaddle at hand when breastfeeding my baby on the go. Muslin is the perfect material.
3) Stroller or car seat cover
A breathable muslin blanket also serves wonderfully as a stroller or car seat cover. It protects your baby from the sun or helps to shield the little brain from too much outside stimulation whilst napping.
4) Bedsheet
A large swaddle can work well as a top bed sheet layer. A receiving blanket works even better as a bedsheet because it is a bit thicker vs a swaddle. Or you can also use a swaddle as a crib blanket when the baby is a bit older.
5) Blanket
Of course, you can also use a swaddle as a light, comfy blanket to cover your baby. It works especially well on warm summer days when there is a bit of wind. A muslin blanket as a cover will keep your baby warm yet cool enough thanks to the breathable material.
For more ways to keep your baby cool without ac read this post.
6) Changing mat cover
You can use swaddle cloths or receiving blankets to cover the changing mat. That way, your baby has a soft layer to feel on the sensitive skin when being changed.
7) Cuddly toy blanket
Many babies like to pull around and play with swaddles. For some, it even becomes their favorite cuddly toy. A familiar blanket instead of a stuffed animal. In that case, I recommend you getting two same swaddles and simply switch them out from time to time. That way, if you ever lose one of them, you still have one at hand. And since it won't be new, your baby might accept it without noticing.
8) Playtime cover
Easily spread a swaddle cloth over your nice couch or your friends' carpet and let your baby play freely. It's hygienic for your little one and also protects furniture and carpets from your baby's dribbles. It works perfectly for tummy time with your little one.
Receiving blanket vs swaddle – conclusion
Now that you have a better idea of what to use a receiving blanket vs a swaddle for, you can start getting ready for your baby to arrive.
Get at least 2-3 swaddle blankets and put together a small collection of receiving blankets. Whilst doing so, make sure to order one of these personalized swaddles for your baby girl!
Or this one for your baby boy! What a cute keepsake for the nursery.
Still trying to decide on a name for your baby? Check out the 120 most beautiful girl names or 120 powerful boy names with their meanings.