As a parent, getting ready for your baby to arrive is an exciting time. Do you have a small nursery and are wondering how to organize a baby in a small space? Or do you need a space-saving changing table in your living room? Here you find a great list of the best changing tables for small spaces.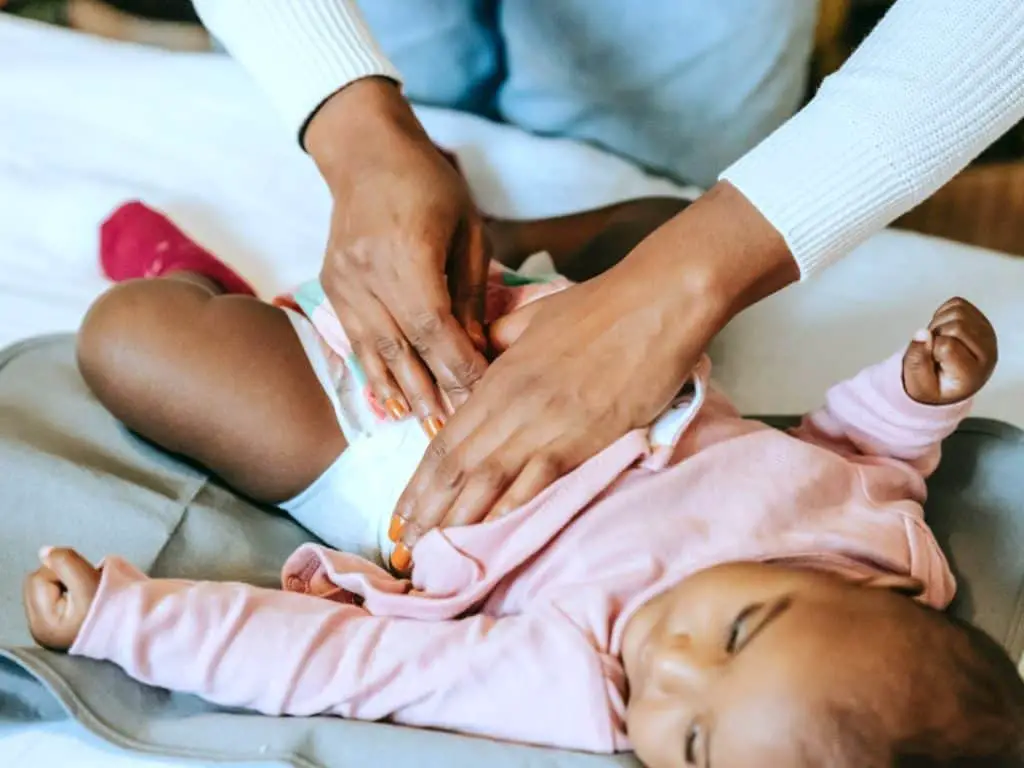 Disclosure: MyMommyHeart is a participant in the Amazon Services LLC Associates Program, an affiliate advertising program designed to provide a means for sites to earn advertising fees by advertising and linking to amazon.com
Space-saving changing tables for a small nursery
My personal favorite is this particular space-saving changing table. Its overall measurements are small, and it has drawers underneath, so you can maximize the space in your nursery and use it for extra storage. It is the perfect solution for a small nursery.
Do you really need a changing table for your baby?
No, you don't necessarily need a changing table for your baby, but it is definitely nice to have one. Its convenient height and easily organized space to make your life as a mom much better.
Especially when your baby has a diaper blowout, a set-up-and well organized changing table can make all the difference in your day.
You might be wondering: Is it worth it to buy a changing table? In my opinion, definitely YES! If you don't plan to raise your baby diaper-free, you are going to spend a lot of your time changing diapers. A nicely set up space with everything needed at hand at a comfortable height will make it much more enjoyable for you as a parent.
What is the best height for a changing table?
A changing table should be about 36 inches (or 91.4cm) tall. For most people, this is a comfortable height to change a baby. They don't have to bend their backs nor stand on their tiptoes. If needed, the height can be adapted to individual preferences.
A small DIY project can make any changing table the height you prefer. Cut off part of the legs or add an extra layer of foam on top.
At what age do you stop using a changing table?
You should stop using a changing table when your baby turns two years old. However, it mainly depends on your child's weight and the limit recommended by the manufacturer. Most changing tables have a maximum weight capacity of 30 pounds (13.6kg).
Naturally, you can also build your own changing table and adapt your liking stability and weight capacity. Another option is to turn a dresser into a changing table. Either way, ensure the baby's safety.
Are Changing tables dangerous?
A changing table or dresser can be a dangerous place for a baby. Left unattended, a baby can easily roll, fall off, and then suffer from severe injuries like concussions or fractures. Keep all diapering supplies within your reach, so you don't have to leave your baby's side.
Always keep a hand on your baby and never leave your child unattended on a changing table! The American Academy of Pediatrics (AAP) recommends "a sturdy, stable changing table with a 2-inch (5cm) guardrail around all four sides".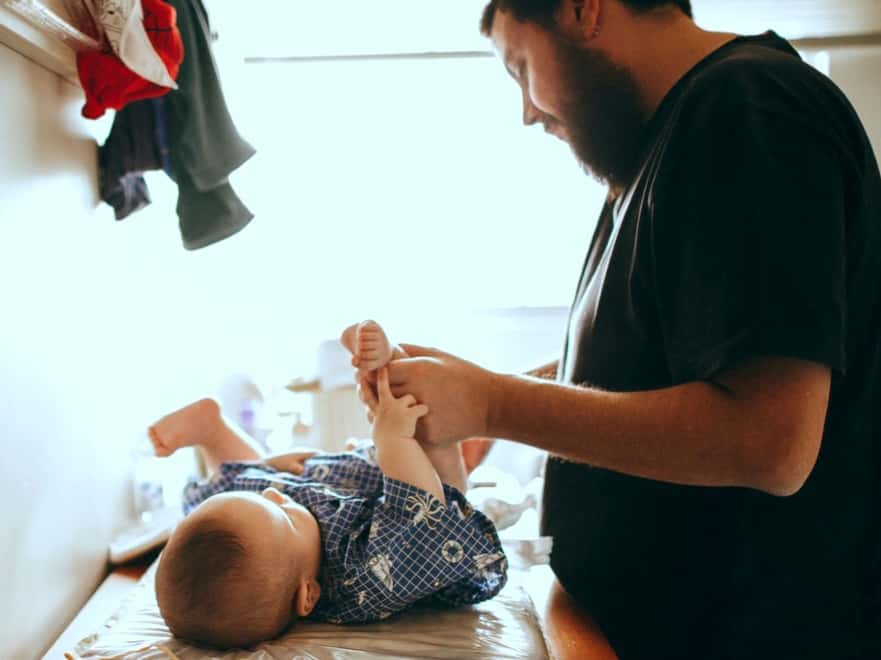 What to consider when choosing a baby changing table for small spaces
Here is what to look for:
First and foremost, you want a changing table to be safe for your child. Does it come with barriers on all four sides? Does it have a safety strap? How will you ensure your baby doesn't roll and fall off?
Secondly, you want to check out the height. As mentioned above, 36 inches is a good height for most people. However, to prevent back pain, you might want a changing table or dresser that's in proportion to your height.
Thirdly, examine the storage room of a changing table. Does it come with open shelves, storage drawers, or baskets? Choose your individual preference.
Best space-saving changing tables
35.43(W) x 17.52(D) x 31.97(H) inches
This space-saving baby changing table is my favorite.
It is a nursery dresser with a changing top and, therefore, amazingly maximizes your limited space. The three spacious drawers provide lots of storage for all of your nursery essentials.
The universal design and easy-to-match style make it a perfect fit for any small nursery room.
40.25(W) x 31.5 (D) x 35(H) inches
This is one of the best baby changing tables for small spaces that I have seen. You put it in one of the corners in your small nursery, and voilà, you have made perfect use of your tiny space.
It includes a laundry hamper and a storage basket for diapers and changing supplies underneath the changing mat. And it comes complete with a foam changing pad, fabric pad cover, and safety belt.
On both sides of the changing pad, you have plenty of space for clean and dirty diapers, diaper cream, wipes case, and all your other diapering supplies.
It's a great choice if you are looking for a setup where you can change your baby's diaper with feet pointing towards you.
35.25(W) x 21.5(D) x 36.75(H) inches
This cute, space-saving diaper changing table is JPMA certified and has a non-toxic finish.
The wooden construction contains two spacious shelves for storage space.
The top safety rails, the safety belt, and changing pad are included in the order.
According to customer reviews, only easy and minimal assembly is required.
37.25(W) x 21.38(D) x 41(H) inches
This beautifully designed changing dresser for small rooms is a perfect match for many nursery styles.
It comes with plenty of storage space. The three spacious drawers can hold all the adorable baby clothes, blankets, and diapering supplies. The dresser is built with extra-strong drawer bottoms to make it sturdier and long-lasting.
The changing dresser was finished in a non-toxic multi-step painting process to prevent toxic chemicals from entering your nursery.
And your baby's safety is important: The drawers come with a built-in stop mechanism, and your order includes an anti-tip kit for additional safety.
37.5(W)x 19(D) x 36(H) inches
This sleigh-style changing station comes with fully removable storage baskets and a hamper below the changing top.
The surface is easy to wipe and spot clean when needed, and the hamper bag is even machine washable.
Safety rails enclose all four sides of the changing area on top, and your order includes the foam changing pad and safety belt.
37.59(W) x 18.89(D) x 40.94(H) inches
This changing table for small spaces has a modest and simple yet beautiful look.
It comes with one shelf and one cabinet for storage below the changing top.
It is made of durable wood and coordinates with Emery cribs if you are looking for a set.
Your order will include the changing pad.
38(W) x 20.5(D) x 39.5(H) inches
This adorable changing table dresser for a small nursery features three spacious drawers and a removable changing topper. Once your child doesn't use the top anymore, you can easily transform it into a beautiful, regular dresser.
Safety features are included: The metal drawer guides come with safety stops, and your order will include a tip-over restraint (safety anchor).
If you are looking for matching furniture, it coordinates with other items in the Lancaster Nursery Collection. You can check it out on amazon.com.
56.8(W) x 29(D) x 41(H) inches
Last but not least I would like to introduce you to this space-saving idea for a changing table.
This changing table for small rooms is, in fact, a full-size crib and changing table combo!
Unlike the crib-top changing table models, it includes a 3-drawer changing table attached to the crib. It is detachable, and the order contains a changing pad and a security strap.
The whole piece of furniture comes with convertibility options and grows with your child. Starting as a mini crib, it can convert into a mini daybed and twin-size bed (bed rails sold separately) over time. Its compact size makes it ideal for small nurseries.
Personally, I love this idea and will definitely consider a set-up like that for my next baby.
There you have it, the top 8 changing tables for small spaces!
I hope you're able to find the perfect one to complement your baby's room. All the best on your journey to becoming a parent!
If you are also looking for a space-saving rocking chair or glider, check out these 10 narrow nursery chairs here.
You might also be interested in the 10 newborn baby essentials every mom has to get before the baby arrives.