Getting ready for your baby and setting up the nursery is an exciting time. Here are the best options for rocking chairs for a small nursery and what I consider the best glider. Even if you have limited space in your baby's nursery, you won't regret getting a special chair set up for many hours of intimate snuggles with your little one.
A compact rocking chair or a small glider chair are perfect space-saving solutions for your nursery.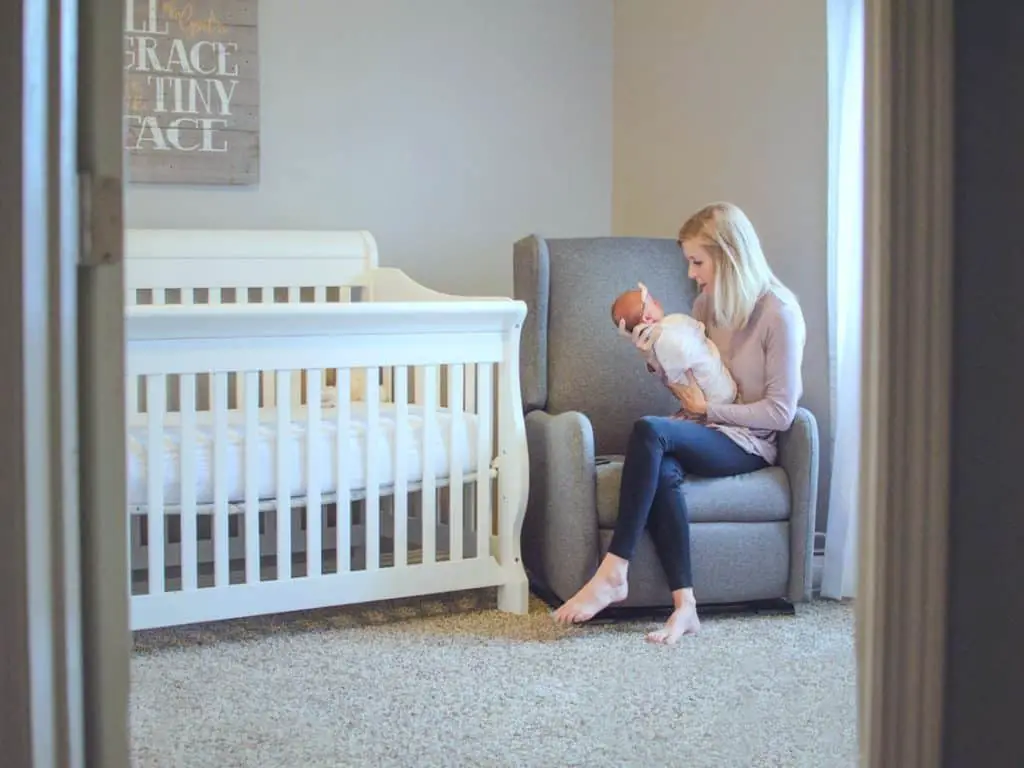 Disclosure: MyMommyHeart is a participant in the Amazon Services LLC Associates Program, an affiliate advertising program designed to provide a means for sites to earn advertising fees by advertising and linking to amazon.com
Best nursing chair for small spaces
This particular nursing chair is my absolute favorite and top pick of all. It rocks, it glides, and it swivels 360°. It comes in a beautiful neutral color and is a perfect space-saving solution for small nursery space. Out of all the listed options below, this one stood out most to me.
Do you really need a rocking chair in a nursery?
A rocking chair is so worth it. It can be an essential piece of furniture when having a baby. You will spend a lot of time on it during the first few months with your newborn. Nursery rocking chairs can be used for breastfeeding, soothing, or rocking your baby to sleep.
You will also find it very comfortable and an important feature for yourself, especially during recovery from birth. A nursery rocking chair has become many mom's favorite piece of furniture.
Later on, when your baby gets older and becomes a toddler, you can continue to use this chair to cuddle up and read bedtime stories together and enjoy part of your nighttime routine on it.
Even if you only have a small nursery and the room is already a bit tight, try to maximize your space and fit it in.
Most of the nursery chairs are beautifully and well designed and will still look good as a comfy seat in any other room once your baby is grown. It will still provide a comfortable seat for a good rest for a long time, even when you will have teenagers in the house.
So, make some room between the crib and the dresser and get that small rocking chair. You will look back happily at some point and realize how worth it was.
There are plenty of great options for space-saving nursery gliders and rocking chairs for tight spaces. Check out the best nursery chairs here: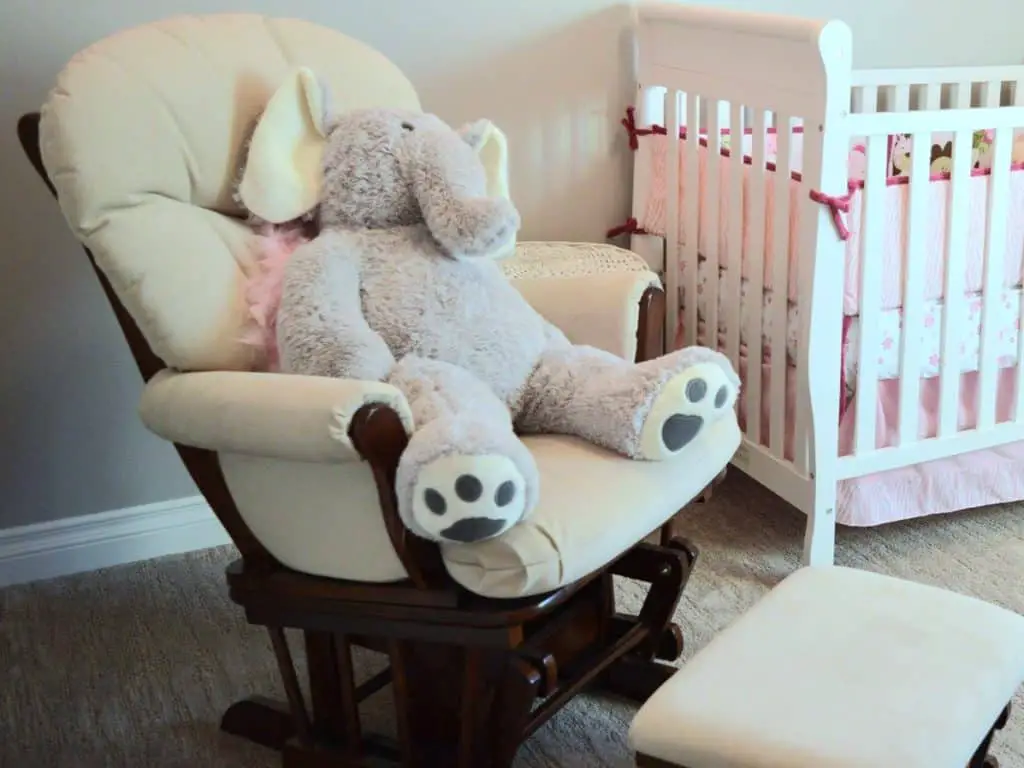 What's the difference between a rocking chair and a glider?
The main difference between rocking chairs and gliders is in the way they move. Both of them make a great nursing chair. Traditional rocking chairs have arched legs and rock back and forth in motion. Gliders have flat legs and usually glide backward and forward. Some gliders can swivel too.
Are rocking chairs good for babies?
A rocking chair or a glider is great for babies. The repetitive rocking or gliding motions are very soothing and remind them of the constant movement in their mother's womb. Feeling it whilst in their mom's arms or on her chest makes them feel safe and comfortable. It's definitely a good idea to put it on your baby registry.
As long as you are there with your little one and you are considering safety, such a nursing chair is amazing for your baby. If you don't rock or glide like a mad person, there is absolutely no harm.
Instead, there is a great benefit for you as a mom. It can literally take off the weight from your shoulders especially during all the late-night feedings ahead. Instead of walking around and trying to stay in motion to soothe your baby, you will get to sit down and relax with your little one and enjoy quality time together in your baby's room.
When you get to rest your body, it also benefits your baby. A rested mom is definitely good for a newborn.
Best space-saving rocking chairs and gliders
26.5 x 31.5 x 36 inches
This small nursery rocker is an excellent choice. It rocks, it glides, and it swivels 360°. Due to its reclining mechanism it really doesn't take up much room in smaller spaces.
It has a sturdy frame and padded arm cushions for comfort. The fabric is easy to clean, and it comes in two colors: charcoal or cream.
The slim design of this nursery glider helps you maximize every square inch without sacrificing comfort. And it will make a perfect fit for your modern nursery.
24.7 x 25.75 x 39.5 inches
This small nursery chair can be described as adorable, comfortable, and affordable.
If you are looking for a cheaper and more light-weight alternative to the small nursery rocker above, this glider is it.
It is one of the narrowest nursery gliders out there and it comes with a matching ottoman.
It has enclosed metal bearings for smooth gliding motion, a generous seat with padded arms, and pockets for extra storage.
24.75 x 25.75 x 39.5 inches
This small nursery rocking chair / glider is also in the more affordable price range.
It is available in 4 different colors: beige, gray, light gray, and pink.
The padded cushions also come with convenient storage pockets and the glider has a solid hardwood base.
27.5 x 33.5 x 37.5 inches
This similar, beautiful rocking chair for small space comes with a bonus throw pillow for extra comfort when nursing.
Its wide seat provides enough space for maximum comfort with your baby. And it also has generous storage pockets and removable cushions for easy spot cleaning.
According to customer reviews, the gentle glide motion works great for soothing a newborn, and the assembly should be fairly easy.
28 x 27 x 41 inches
This comfortable nursery glider is the "deluxe" version of the examples mentioned above.
It is slightly bigger in size and will not only compliment your nursery but any room in your home, even an office. It comes with great neck support for tall parents.
A ball-bearing mechanism provides a smooth gliding motion.
If you decide to make a long-term investment, this is it! You will be able to use this chair way beyond the baby years. With its wooden frame and beautiful design, it can complement almost any living room.
31.5 x 25 x 39.25 inches
This nursery rocker is another "deluxe" version. It is Greenguard Gold Certified.
That means that this product has undergone scientific testing for over 10,000 chemical emissions and VOCs. Apparently, it contributes to cleaner indoor air, creating a healthier environment for you and your baby to sleep, play, and grow.
The main feature is the high back with the bonus lumbar pillow for extra support, which provides amazing comfort and rest when breastfeeding.
The sleek design and modern style of this sturdy nursery glider and the stable metal base make it a great solution for a small space.
26.5 x 26 x 39 inches
This narrow nursery glider is available in soothing, on-trend finishes to match any home furnishings or decor. The solid wood construction gives it a beautiful look.
With its slim design, it fits in narrow spaces. And it moves in a smooth gliding motion in tandem with the matching, padded ottoman.
It also comes with side pockets for convenient storage and easy access to necessities when breastfeeding.
27 x 24 x 40 inches
This sleigh-style slim glider makes a great space-saving rocking chair. With its small size, it can fit in minimal spaces.
The back and seat cushions are removable for easy care and cleaning.
And if you are looking for a colorful, yet perfectly matching nursery, this narrow glider's upholstery design coordinates with Cotton Tale Designs bedding collections. (Click on the picture for different color options.)
29.5 x 28.5 x 39.5 inches
This small rocking chair / comfortable glider for your nursery comes with a high-quality sponge cushion that is not easily deformed.
The padded rocking chair back and armrests have a very ergonomic design. They support your spine and arms and provide a comfortable time for you and your baby.
It also comes with extra storage pockets and is easy to assemble.
29.75 x 29.75 x 33.5 inches
This small nursery rocker glides forth and back and can swivel 360-degree. Therefore it is also called a swivel glider.
It is compact and space-saving without compromising on comfort and motion.
The modern design might be a great addition to your other nursery furniture.
It also arrives fully assembled and ready to go. Perfect for a last-minute buy before your baby arrives.
What to consider when buying a nursery chair for small spaces
When you buy a nursery chair for a small space, there are quite a few things you should be considering.
Here is what to look for:
1) The size
Naturally, if you are looking for a space-saving rocking chair, you want to consider the size first. For a rocking chair, count 3 additional feet distance to the wall. For a glider, you might want to consider the size of an ottoman in front. Measure how much space you have available and then decide accordingly.
2) Height
Depending on your size, you might adapt your choice. It's important that your feet can comfortably touch the floor. You don't want them hanging in the air whilst breastfeeding.
3) Supportive Cushioning
Most likely, you will spend a lot of time on this nursing chair. Make sure you will be as comfortable as possible. Supportive cushioning on the sides is important, especially for different breastfeeding positions.
4) Comfortable, firm seat
The seat cushion should have an ideal density. That is an important factor. It must be soft enough to sit comfortably, especially after having given birth, and firm enough, so you don't sink in. Comfortable and supportive seating is especially important when breastfeeding and holding your baby.
When considering the weight capacity, add a few lbs for the baby since you will be holding your little one most of the time when using the chair.
5) Durable fabric
Most likely, the nursery chair will have to endure spills and spit-ups over time. Ensure to choose the fabric accordingly.
6) Locking Mechanism
Many moms like to have a locking mechanism on a glider. It helps when you need the chair to stay still and don't want to use the gliding feature. For example, if you want to get up with your sleeping baby after breastfeeding.
7) Safety
You also want to check out the security features of a nursing chair. Especially swivel glider or any glider at all. Are there dangerous spots where small baby hands could get stuck and hurt? The safety of your child has to be a priority.
8) Longevity
Since it is a little bit of an investment to get a good quality nursery chair, you might want to look out for one you will be able to use with your second and third child as well. Is it a quality glider with washable cushions? Does it come with a durable steel mechanism? Check the warranty it comes with.


Check out the options above on amazon.com and get that small rocker for your nursery today.
You won't regret it, but hopefully enjoy many beautiful hours with your little one on it over the next few years and beyond.
All the best on your journey to parenthood!
You might also be looking for a space-saving changing table or want to read more about the top 10 newborn baby essentials every mom needs.