Yay! You have reached the 3rd trimester, and the countdown to meeting your baby face-to-face is on. The third trimester includes weeks 27 to 40 of pregnancy.
So, in perfect theory, a pregnancy lasts 40 weeks. However, technically that is only a guideline. Typically, you will give birth anywhere between week 37 and week 42 of pregnancy. That can make a difference of 5 weeks, depending on your body and your baby!
For some mothers-to-be, the last trimester can be very exhausting: freedom of movement is increasingly restricted by the ever-expanding baby bump. As a result, pregnancy problems such as back pain, insomnia, and water retention might occur toward the end of the pregnancy.
In the last trimester of pregnancy, your baby's main task is to grow in size. As a result, your little one will gain significant weight during that time. The baby will also descend deeper into the pelvis and slowly find the ideal birth position.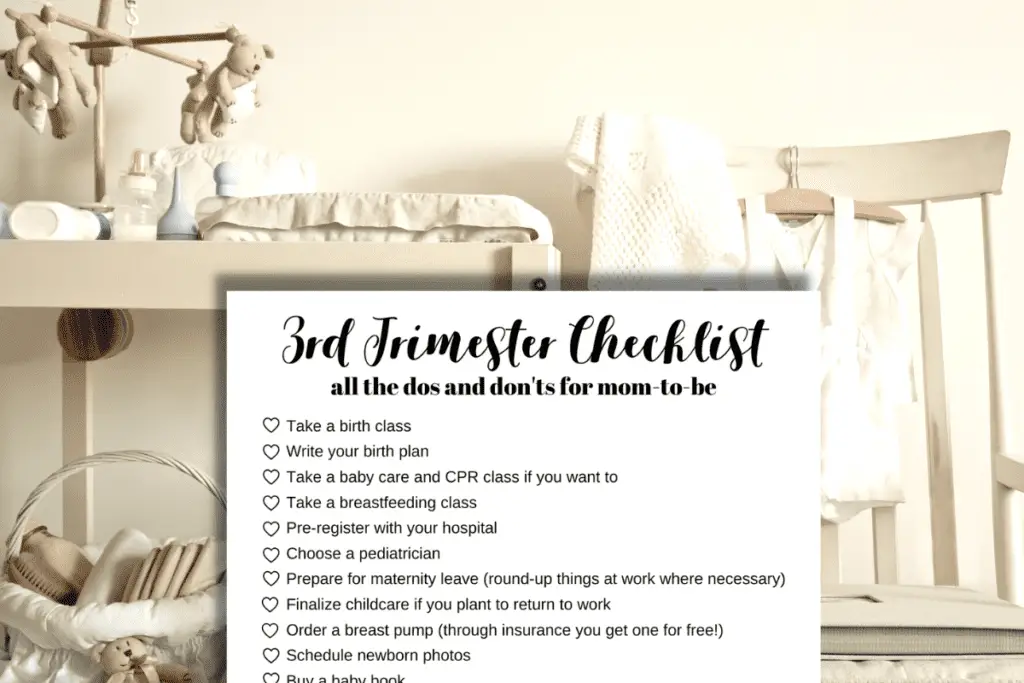 ---
Disclosure: MyMommyHeart is a participant in the Amazon Services LLC Associates Program, an affiliate advertising program designed to provide a means for sites to earn advertising fees by advertising and linking to amazon.com
---
So, while your baby is preparing to meet you soon, make sure you don't miss anything to prepare yourself for the baby as well! Here is the third-trimester checklist to stay on track and get things done so that you're well prepared when the big day comes and you will meet your baby!
1. Take a birth class
A birth class is an ideal way to clarify all questions about the birth and the time after it, eliminate uncertainties and insecurities, and mentally and physically prepare for the new baby's arrival. It will also ensure you know the signs and stages of labor and when to call your provider.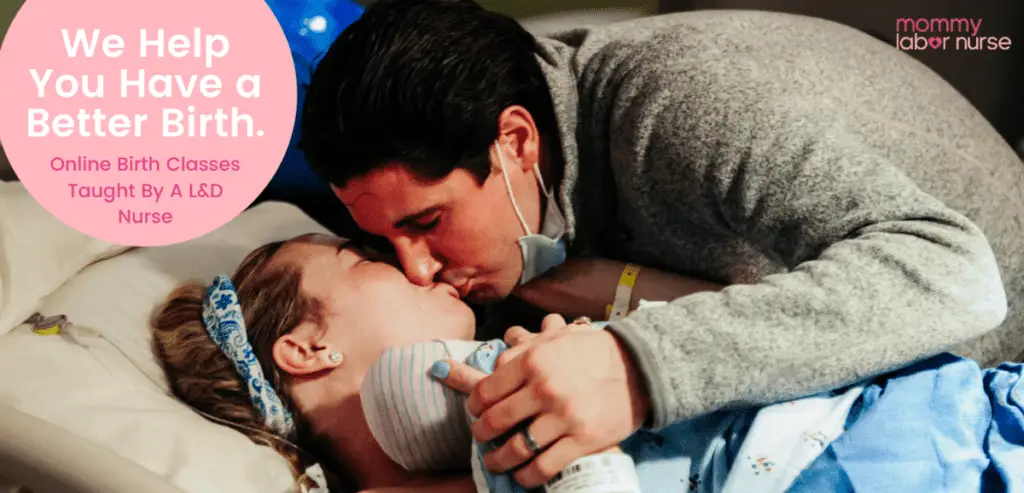 Mommy Labor Nurse's online birth classes are some of the best out there. I love that they offer three different versions of their class (natural, epidural, and c-section) so that you can get the birth education that's best tailored to your needs and goals – they all include newborn care education too!
Use the code MYMOMMYHEART for 10% off for any of the courses!
If you are not ready to commit to an entire, paid class yet, they also have a free 45-minute Birth Education Workshop. It's full of actionable tips and advice to help get the ball rolling on your birth preparations! And it gives you great insight into what the full course would look like.
2. Write your birth plan
A birth plan is where you think about and write down your preferences for your birth. It helps you prepare yourself and become aware of different options concerning labor, pain management, and baby care right after delivery.
Here is a great template you can easily fill in and bring to the hospital when the time comes. You can either print it as a pdf version or edit it directly as a word document.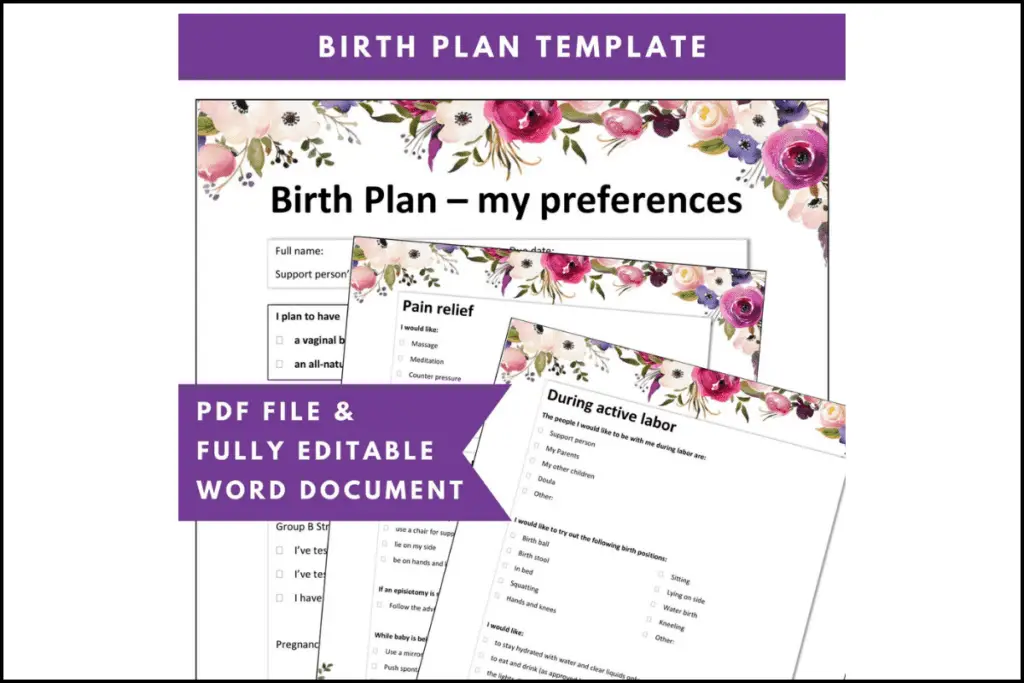 3. Download a contraction app
That way, you already have it on your phone, ready to be used when you start feeling your first contractions.
4. Take a baby care and CPR class if you want to
To feel safe and confident with a new baby, some parents-to-be choose to take a baby care or CPR class in advance. If you are interested, the third trimester is a good time to look into that.
5. Take a breastfeeding class
Learning some breastfeeding basics in advance can give you a great head start for your breastfeeding journey. Knowing how milk production works, what a proper latch looks like, when to expect your milk to come in, hunger cues, and signs that the baby is getting enough milk will help you a lot.
Stacey Stewart from Milkology has an amazing and very affordable breastfeeding class online. Check it out here.
Or, if you prefer a FREE online webinar, Lactation Link has a good one called Milk Drunk 101.
If you'd rather read and educate yourself further, here is everything you need to know about breastfeeding your newborn or how to increase your milk supply after your baby is born.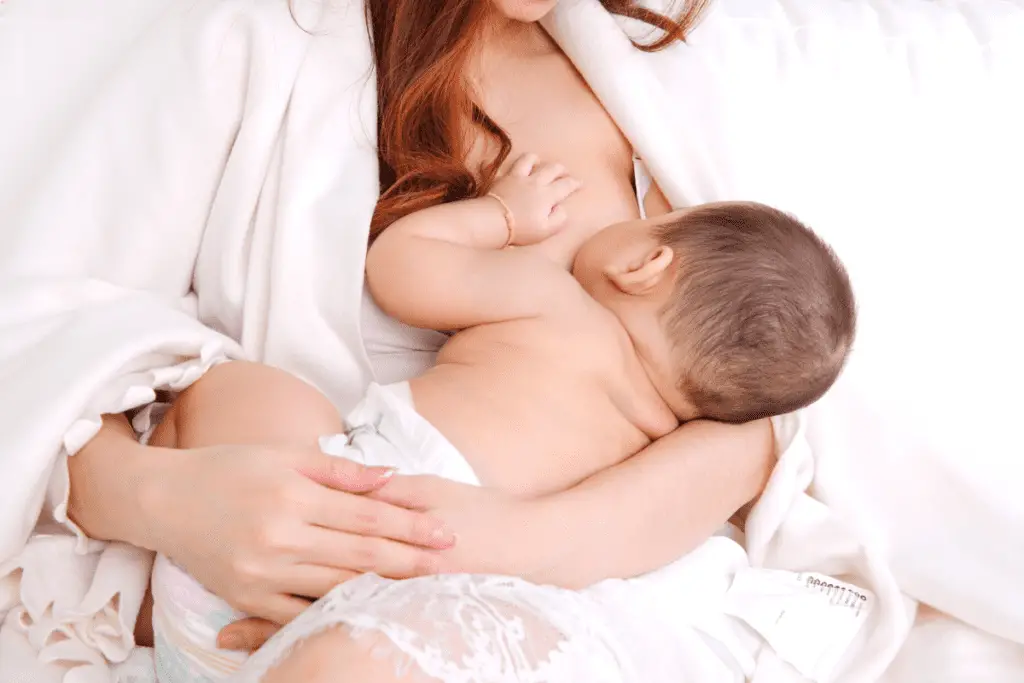 6. Order a breast pump
Get your free breast pump through your insurance if you haven't yet! US law states that every expecting mama is entitled to 100% breast pump coverage. Call your insurance company to see what type they cover and how to acquire yours.
7. Start doing kick counts
If you haven't already observed your baby's daily movements regularly, now is the time to start.
Kick/movement counting is a free and very effective way for you as a mom-to-be to track your baby's well-being in the womb, spot potential problems, and even prevent stillbirth!
According to ACOG, you should feel 10 movements in two hours. Movement can be kicks, flutters, rolls, or anything in between.
And remember, all babies are different! You may feel 10 movements in 10 minutes or have to keep counting for the full two hours to reach that far.
If your baby ever doesn't seem to be moving at all over a more extended period, try lying down on your left side and wait a bit. Or try having an ice-cold drink. If your baby is just sleeping, that will wake him/her up, and you will feel movement again.
If you sense that the baby is moving less than usual, call your provider. Remember, it is much better to check on your baby, and everything is fine than having an emergency go unnoticed.
8. Pre-register with your hospital
Let them know your due date and that you will come in to give birth. Find out what specific forms you have to fill in and what other information they need from you in advance.
9. Choose a pediatrician
Give them a call, introduce yourself and tell them your estimated due date, so they know when to expect you with your little one for monthly check-ups and possible vaccines in the future.
10. Prepare for maternity leave
Slowly round-up things at work where necessary and prepare everything for your leave. Depending on your job and your health, you might not work until the end of your pregnancy. It's always better to be ready earlier than late.
11. Finalize childcare if you plan to return to work
You might have already started organizing it. However, now it's important to finalize the solution that works best for your family. That way, when everything is sorted out already, it won't add additional stress to your momma's heart during the postpartum season.
12. Finish creating your baby registry and decorating the baby's nursery
Continue adding things to your baby registry on amazon.com and keep sharing it with friends and family.
If your baby's nursery isn't ready yet, try to finish it during that third trimester. However, don't worry if it's not perfectly decorated when your baby arrives. You can still work on that slowly when your little one is here, and you actually use the space.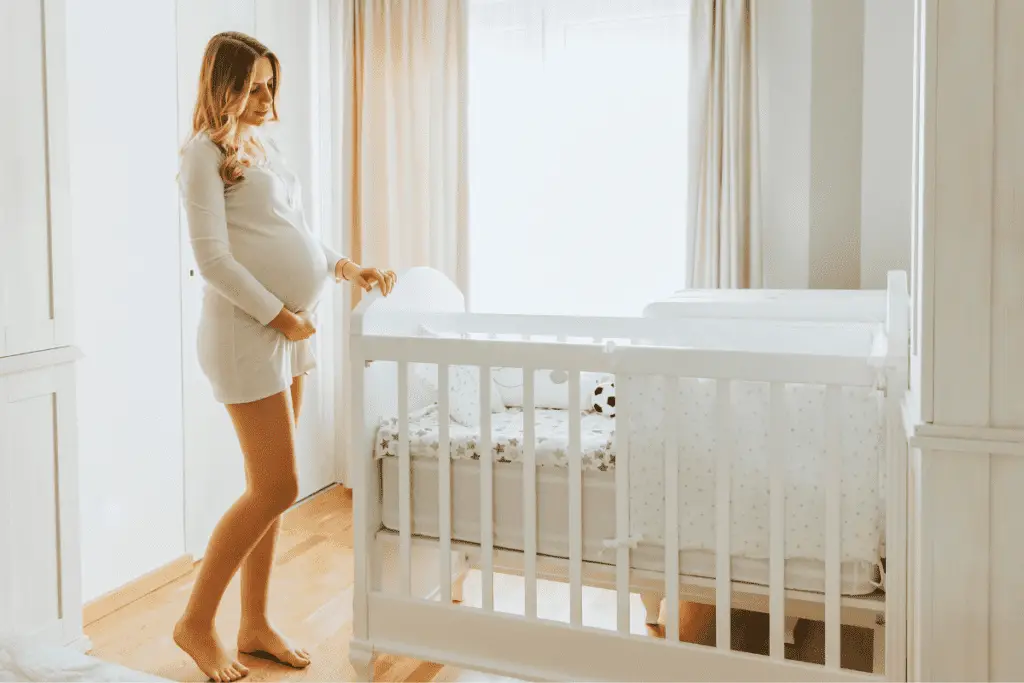 If your nursery is a very small room or just a corner in your master's bedroom for now, here are my ideas and top recommendations for a small changing table and a space-saving nursing chair.
13. Schedule newborn photos
Set a date with your photographer and book your session. However, try to stay flexible since your little one might not arrive on your due date.
14. Buy a baby book
A baby book is a fantastic way to track your child's growth and development during the first year of life. It will remind you to take lots of pictures and write down all the important dates and milestones as well as sweet memories to share with your child in the future.
15. Celebrate your baby shower
Meet with all your friends, get the sweetest gifts, and eat lots of nice cake. Celebrate the new baby and yourself as mom-to-be to prepare your heart and add to the anticipation.
16. Read and listen to encouraging birth stories
For some women, it can be a great help to read and listen to positive birth stories to set the mood and gain confidence for their own birth that is ahead. Try it out and see what it does for you. MommyLaborNurse has a great podcast with encouraging and real birth stories.
17. Prepare freezer meals
Freezer meals are a great way to prepare for the first few weeks at home with your newborn.
18. Pack your hospital bag
Get ready to leave for the hospital once labor starts. Grab the free checklist here.
19. Install baby's car seat
Please, please, please read the manual, and practice using your baby's car seat before being picked up from the hospital! Trust me; I didn't do it with my firstborn; it was no fun trying to figure it out right then and there in the parking lot in snowy weather!
20. Assemble additional baby gear
If you haven't assembled the stroller, bedside crib, or a swing that you got, do it now before the baby arrives. When you bring your newborn home, you will be glad to have these things ready.
21. Wash baby clothes and linens
Wash them with a mild detergent and prevent skin problems caused by chemicals on new fabrics.
22. Stock dresser and changing stations
Set yourself up for success and have everything in its place. It is exciting and will make your life so much easier during those precious first few days and weeks at home.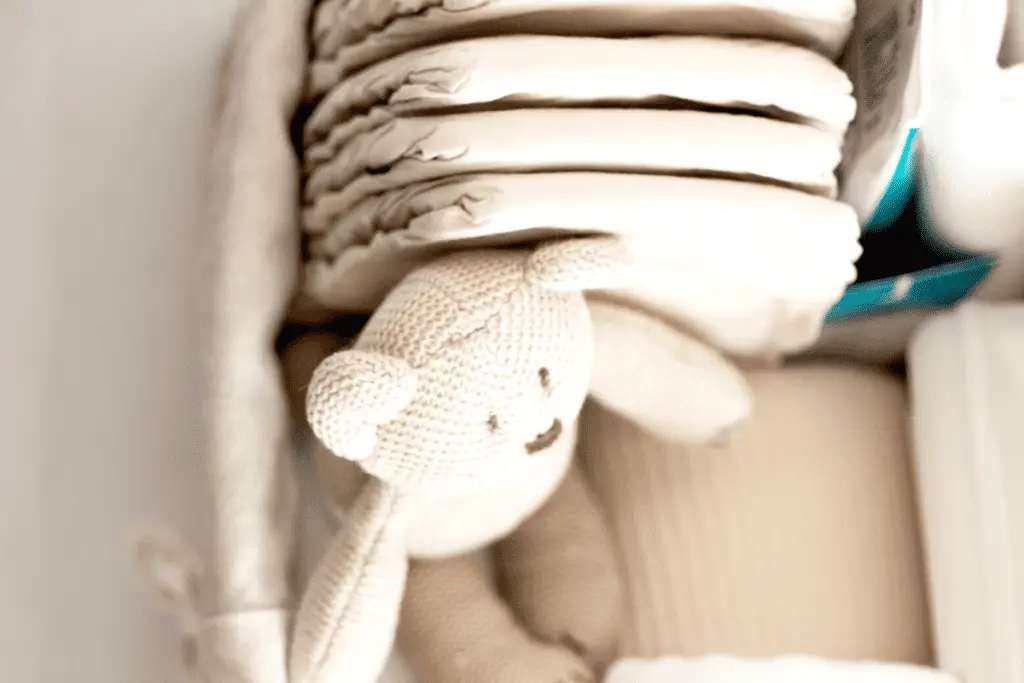 23. Sanitize and clean baby gear
Ensure your baby won't be exposed to any unnecessary germs from the start.
24. Stock up on postpartum essentials
Educate yourself about postpartum bleeding and stock up on all the essentials for you as a new mom recovering from birth as well.
To mention a few essentials: comfortable clothes for after giving birth, pads, peri bottle, stool softener, and breastfeeding supplies.
25. Finalize baby name
If you haven't already narrowed it down and decided on a name for your baby, NOW is the time. If you need more inspiration, here are 120 strong boy names or 120 powerful girl names.
26. Clean, declutter, and organize your home
As much as it might feel like a burden at times, once "nesting" hits you in your third trimester, you will be surprised at how much energy you will find to do all these things shortly before giving birth 🙂
You might also want to clean and organize a guest room if you have help over after birth.
27. Make plans for childcare (baby's siblings)/pets for when you go to the hospital/birth center
If this isn't your first child or if you have pets, organize their care for the time when you're gone. You never know how long the birth might take, and you will be glad to know that everybody else is in good hands while you focus on giving birth.
28. Enjoy some date nights
Take some intentional time with your partner to enjoy each other's exclusive company before your baby gets here. Have fun, relax, and talk about how each of you is feeling toward adding a newborn to your family. Walk down memory lane together to remember how far you've already come and dream about your future as a family.
Get your free printable third-trimester checklist as a pdf here
That was it; I hope this list helps you stay organized and feel confident and well-prepared for your baby's arrival. Enjoy this time of anticipation and get ready for your little one. Very soon, you will meet face-to-face!
If you are still interested, check out the first-trimester checklist or second-trimester checklist here.
Or you have almost reached your due date and are trying to kick-start your labor at home? Here are 9 ways to go into labor overnight. Check it out!